Our School Mission Statement
Surround ourselves with a happy and secure learning environment for all.
Join together the home, the school and the wider community.
Promote academic and cultural excellence amongst our pupils.
Support and provide for every individuality.
The School Day
The School Day:
Begins at 9am
Pupils go straight to their classrooms from 8.45am
Break time P1-P3: 10.15am - 10.30am
Break time P4-P6: 10.35am - 10.50am
Break time P7: 10.50am - 11.05am
Lunch time P1-P3: 12 - 12.45pm
Lunch time P4-P5: 12.30 - 1.15pm
Lunch time P6-P7: 1pm - 1.45pm
Home time P1: 1.50pm
Home time P2-P3: 2 pm.
Hometime: P4-P5: 2.50pm
Hometime P6-P7: 3pm
After School Clubs finish at 4.00pm
Classroom assistants run Cool Kids and the Homework Club on a daily basis. Homework Club helps pupils to form good habits in getting their homework done early. It helps pupils develop skills of independent learning in a supportive environment. If children have finished their homework they can research on the computer or play games. (Prices are reviewed annually)
General Information
Healthy Eating
We educate children to look after their bodies when they are young.
This involves physical activity and eating habits.

At dinner time the children can enjoy a healthy dinner.
Dinner costs £2.60 per day and should be ordered before midnight the night before using the school's cashless system 'Schoolmoney'..
Children can bring their own packed lunch
Children are free to choose which service they will use on a daily basis.

School Trips
We aim to provide primary experiences as often as possible for our children.
Educational visits are organised with our Shared Education Partnership School, Harmony Hill.
Educational visits are organised throughout the year to develop areas of the curriculum in each class. Visits include; the zoo, the farm, the museum, the seaside, the park, The Linen Centre, The Waterfront, The Island Centre, the hospital, the airport, the fire station, The Grand Opera House and various exhibitions. Primary Seven pupils benefit from an exciting end of year trip in term 3.
Services for Parents
Services for Parents:
In St. Joseph's we believe in Educare. This means one site where children can be educated and cared for safely. For this reason we provide a Cool Kids Club both before and after school, at a reasonable cost. The following facilities are available:
Early morning drop off. Children can come to school at 8am and go to Cool Kids where they will be supervised.
Homework Club for P4-P7 children (5 days a week from 3pm – 4.30pm ) A snack will be provided for all children attending.
Cool Kids Club for P1-3 runs after school until 5pm daily. See Mrs Noblett or Mr Healy the co-ordinators for individual needs.
Curriculum meetings for parents
Individual Parent Meetings.

Parent Training Courses

Open Door Policy

Friday Note and letters to parents

Text to Parents Service

Emails to Parents


School Website


School Twitter Feed @stjosephlisburn
Seesaw
For more information on the school please download a copy of our school prospectus, or contact us for a copy.
Our Monthly Awards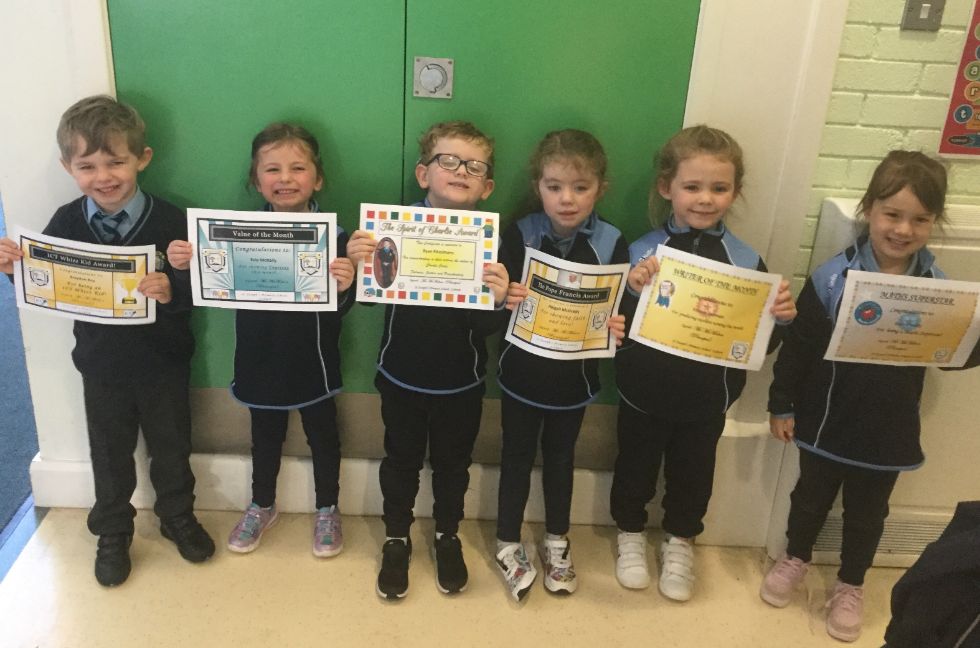 Monthly Awards

Our monthly Awards ensure that children are recognised for their achievements in school.We have awards for:
Writer of the Month
ICT Whizz Kid
Maths Super Star
Pope Francis Award
Value of the Month
The Spirit of Charlie Award
St Joseph's P.S. Lisburn
School Uniform
Our Uniform:
Our uniform should be worn every day. It makes a statement" We belong to St. Joseph's"
Our Uniform is:
Navy blue pullover with school crest.
Sky blue shirt
Sky blue / navy tie.
Charcoal grey trousers or skirt.
School shoes must be worn
White socks or navy tights.
Our uniform can be purchased online through our supplier, Chaplins.
Summer uniform
(May-October optional)
Sky blue check dress and school jumper (girls)
Shirt sleeved shirt and grey short trousers (boys)
P.E Uniform
Shorts and t-shirt with black trainers
School P.E uniform is available (shorts and t-shirt with crest)
Comments from Parents
We asked some of our parents to tell us "anything you feel would help reassure other parents that St. Joseph's is the right primary school for their child".
Jayan Joseph/ Anit Dani Toms:
St Joseph's performs 101% to its motto. The caring atmosphere gives the children confidence. Parents also feel very at home in the atmosphere. This is thanks to the dedicated staff and management.


Patricia Glover:
St Joseph's isn't just about learning, it's about fun, friendship and caring for others. Our children love going to school every day.


Aveen Hewitt:
I have been so impressed with the attention to detail that goes into my daughter's education and the amount of effort that the teachers make.


Geraldine McDonnell:
St Joseph's is not only a great school, it also has a fantastic Cool Kids Club in place which has enabled me to go back to work.


Seamus Bunting:
St Joseph's is a brilliant school because it is so family based! We are always made to feel so welcome. We are so glad that we chose to send both our children here.


Cindy Mulholland:
My daughter has special needs, and I was delighted and very impressed at how St Joseph's welcomed her into their school. All the staff show a genuine interest and eagerness to understand her disability and want to meet her needs. The staff show love and care towards her and have made her time at school a very happy one!

Gerard and Ciara Gorman:
All four of our children have attended St Joseph's. The school provides a lovely balance of all the aspects of school life. Our children go to school happy and content each morning. We have seen how happy children learn!
St Joseph's Primary School, 42 Castle Street, Lisburn, BT27 4XE | Phone: 028 92 674 901

WEBSITE BY: SCHOOLWEBDESIGN.NET | Login